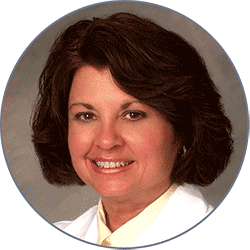 Karen T. Congelio, DNP, RN, ACNP-BC is a Certified Registered Nurse Practitioner with specialties in both Dermatology and Internal Medicine.
She has a Doctorate Degree from the University of Pittsburgh and a Masters degree from Carnegie Mellon University.   
 
She has been a practicing nurse practitioner in dermatology for over 15 years with specialization in skin cancer recognition, psoriasis, and clinical research. Karen also lectures at both University of Pittsburgh School of Nursing and Robert Morris School of Nursing. Her recent publications include a chapter in Dermatology Assessment for Nurse Practitioners.  Prior to joining Vujevich Dermatology Associates, she was Director of Patient Service at The Mercy Hospital of Pittsburgh.