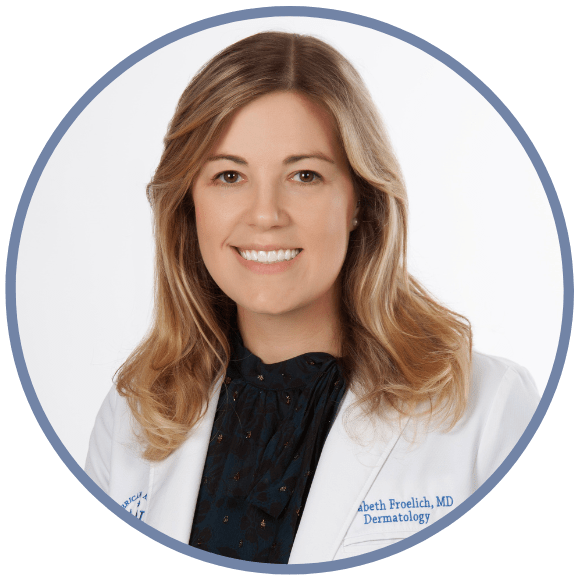 Elizabeth J. Froelich is one of the few pediatric dermatologists in the local area. Dr. Froelich is our experienced, board-certified pediatric and general dermatologist here at Vujevich Dermatology Associates in Pittsburgh. She recently won the Top Doctors Award from Pittsburgh Magazine.
Dr. Froelich obtained her undergraduate education at the University of Pittsburgh and received her Doctor of Medicine degree from Drexel University College of Medicine. Dr. Froelich was Chief Resident during her dermatology residency at the University of Pittsburgh Medical Center. Following residency, she completed her fellowship training in pediatric dermatology through the Children's Hospital of Pittsburgh of UPMC.
Dr. Froelich is a board-certified dermatologist and board-certified pediatric dermatologist by the American Board of Dermatology and is also a staff member at The Washington Hospital and St. Clair Hospital. Dr. Froelich has presented at national meetings and has authored publications in general and pediatric dermatology. She specializes in pediatric dermatology, adult dermatology, and dermatologic surgery.
You can learn more about Dr. Froelich and the common questions she receives as a pediatric dermatologist here in Pittsburgh. We've discussed the care she provides, some advice she has to offer to parents, and what an appointment for your child with her may entail.
Dr. Froelich most commonly treats acne and eczema in children that she sees, in addition to many other pediatric skin conditions in kids.  Not only is she highly trained and experienced but has developed skills to perform skin exams and procedures efficiently and gently on even the youngest of children and babies.
If you're interested in care for you or your child, please contact us to request an appointment with Dr. Froelich.