The Dermatology and Cosmetic Surgery Center is an Ambulatory Surgery Center licensed by the Pennsylvania Department of Health, the Accreditation Association for Ambulatory Health Care (AAAHC), and the Centers for Medicare and Medicaid Services (CMS).  This state-of-the-art center houses two innovative operating rooms in Suites A and B.  Our ambulatory surgery center also includes procedure rooms, monitored recovery rooms and a CLIA-certified laboratory.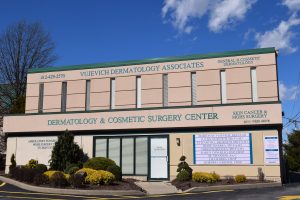 The Ambulatory Surgery Center is located next to St. Clair Hospital in the Mt. Lebanon/Scott Township area.  The building is named the Dermatology and Cosmetic Surgery Center.  There is free parking located in the back of the building. Patients being treated within the Dermatology and Cosmetic Surgery Center can exercise their rights without regard to sex or cultural, economic, educational or religious background or the source of payment for his/her care.
Our surgeons at Vujevich Dermatology Associates are Dr. Justin Vujevich, Dr. Christie Regula, and Dr. Ryan Andrulonis. In our offices, our board-certified dermatologists and surgeons perform many dermatologic surgeries. These surgeries include the removal of skin cancer, moles, and other skin lesions such as symptomatic cysts, lipomas, and dermatofibromas.  Skin cancer removal is performed through our Mohs Surgery Center. Mohs Surgery is the most advanced, accurate, and highly specialized treatment for skin cancer.
For any questions about our Ambulatory Surgery Center or the surgeries we form in our office, please contact us today at any of our locations.
Dermatology and Cosmetic Surgery Center
Office Hours 7:00am to 3:45pm
Monday through Friday
Dr. Justin Vujevich
100 North Wren Drive
Suite B
Pittsburgh, PA 15243
412-429-0276 (phone)
412-429-2572 (fax)
Dr. Christie Regula
100 North Wren Drive
Suite A
Pittsburgh, PA 15243
412-429-0276 (phone)
412-429-2575 (fax)
Dr. Ryan Andrulonis
100 North Wren Drive
Suite A (Wednesday)
Suite B (Friday)
Pittsburgh, PA 15243
412-429-0276 (phone)
412-429-2575 (fax)