What are dermal and facial fillers?
Dermal fillers and facial fillers are interchangeable terms. Fillers are used to make the face look more youthful, and a dermal filler treatment is a relatively common procedure. In fact, it's the second most common cosmetic procedure in the United States. We believe that the skill and experience of your provider matters, which is why our Pittsburgh dermal filler treatments are only performed by one of our physicians or our highly trained nurse practitioner, Lisa Barba, CRNP.
What does dermal filler treatment do?
Dermal filler is an injectable treatment that is used to restore volume to areas that have lost it over time. As we age, our facial structure changes. Our facial bones lose bone mass, we lose subcutaneous fat in our cheeks, temples, mouth, and chin and gain fat in less desirable areas like the jaw line and neck.
Ultimately, the shape of our face changes over time and causes us to look tired and older than we would like. A dermal filler treatment addresses the natural aging process and can make the face look fuller and more youthful.
What is dermal filler made from?
Most dermal fillers are composed of hyaluronic acid. Hyaluronic acid is a clear gel-like substance that is naturally found in the body and is found in highest concentrations in the skin. When hyaluronic acid is injected, it inflates the skin to add support to facial structure and tissues that may have lost volume or elasticity over time. It also stimulates new collagen formation and brings water to the surface of the skin to keep it looking fresh and youthful.
What areas can be treated with filler?
Although filler procedures are most commonly used for the face, there are other areas like the hands and neck that they can be used for. Dermal fillers are FDA-approved to add volume to the cheek and lips, fill parentheses lines around the mouth, correct vertical lip lines, and add volume to the hands. It can also be used to add volume to the temples, fill-in horizontal forehead lines, correct under-eye circles, smooth the jawline and chin wrinkles, and help correct down-turned corners of the mouth.*
Filler of the Cheeks Before and After*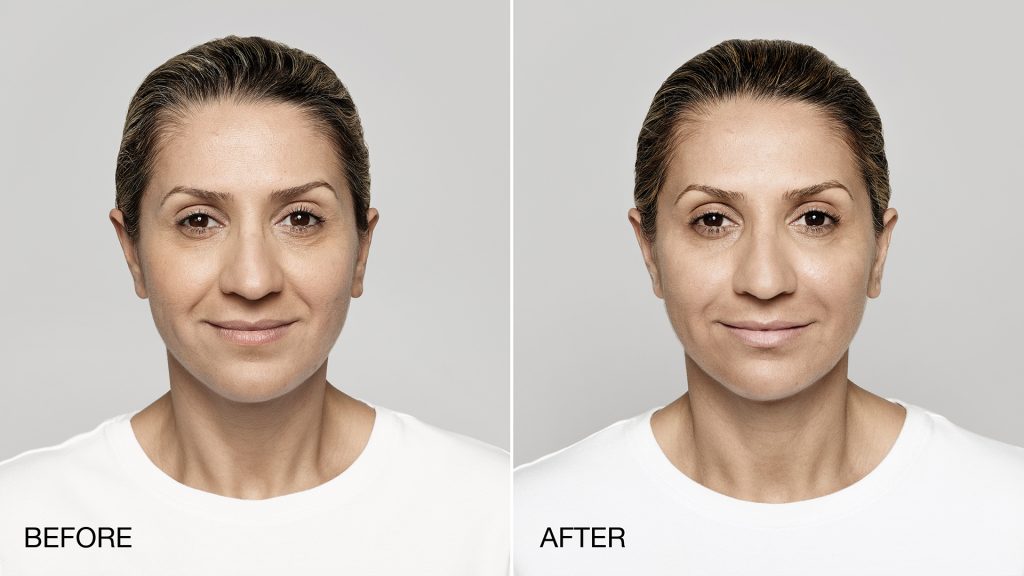 Filler of the Nasolabial Folds and Marionette Lines Before and After*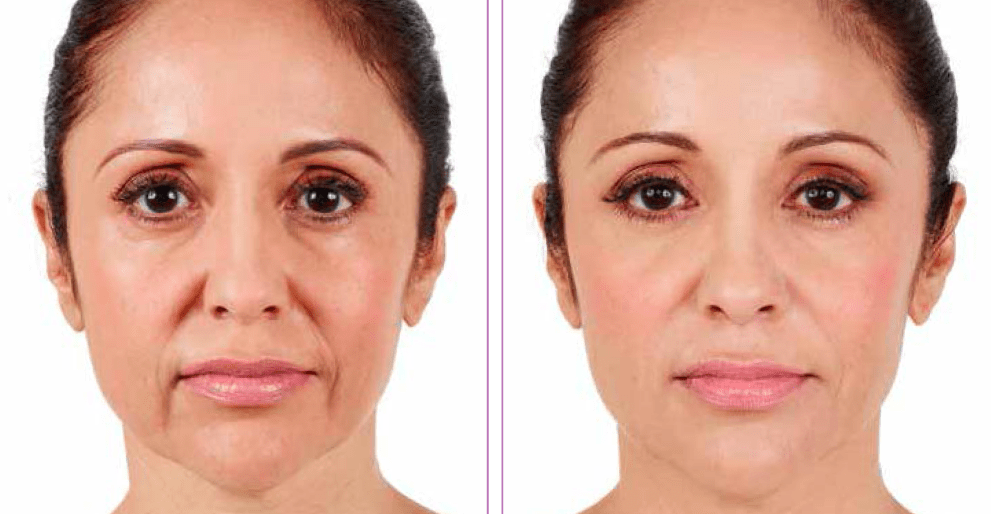 Filler of the Nasolabial Folds and Marionette Lines Before and After*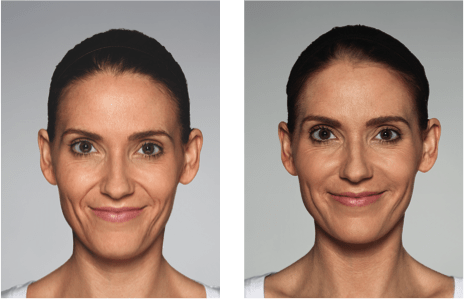 Filler of the Lips - Before and After*

At what age should you get fillers?
The greatest percentage of dermal fillers are used by patients aged 40 and up. As we age, our body produces less collagen and elastin. These are the proteins that keep our skin smooth and firm. Some patients in their 40's and 50's use fillers to help smooth out lines in the face or to restore cheekbones that are less prominent than they once were.
With that said, there are also patients in their 20's and 30's who use dermal fillers. It's important to speak with a board-certified and highly trained medical professional to help determine the right age for you.
Are all fillers the same?
No, different brands of filler are made for different purposes. For example, some are made to provide lift to the cheek while others are made to provide smooth, subtle volume to the lips. One of our providers will discuss what type of filler is right for you. We carry Juvéderm, Juvéderm Ultra, Juvéderm Voluma, Restylane, Restylane Lyft, Restylane Silk, Restylane Defyne, Restylane Refyne, and Belotero.
What should I expect during the procedure?
One of our providers will evaluate your facial shape and discuss your aesthetic concerns to develop a treatment plan. Pre-procedure photos are taken, the area to be treated is cleansed, and using a small needle the filler is injected where needed. Fillers typically contain lidocaine (a numbing medication) to make the procedure more comfortable, but topical numbing medicine may also be applied to more sensitive areas. With an experienced provider, a filler treatment should take 15 minutes with minimal pain. Most patients describe a pinching sensation and feeling pressure.
What should I expect after the procedure?
It is normal to have swelling after your procedure for several days. You may also have slight lumpiness in the injection area during this time period. You will be asked to ice the treatment area immediately after treatment and to continue to do so for the rest of the evening to limit this swelling. As with any injection, there is a risk of bruising. We recommend that patients avoid strenuous exercise for 24 hours to reduce this risk. You can also reduce this risk by stopping certain medications and/or supplements for 2 weeks before your procedure (aspirin, ibuprofen, vitamin E, fish oil, and others). Please do so only with the permission of your physician.
You will see an immediate improvement in the treatment area, whether it is an increase in volume or a correction in lines and wrinkles. You will see full correction in seven days once the swelling has decreased. New aesthetic patients usually return at two weeks after treatment to be sure that you are happy with the results and that no adjustments are needed.*
How long do dermal fillers last?
A single filler treatment typically lasts six to twelve months, while some filler has been shown to last up to two years. This depends on the type and amount of filler used, as well as the area being treated. Keep in mind that hyaluronic acid filler also stimulates new collagen growth in the skin. Because of this, filler treatments have a building effect over time, and we use this to our advantage to create long lasting improvement.
Are dermal fillers safe?
The first hyaluronic acid filler was FDA-approved in 2003 and over the years these fillers have developed a proven safety record. Like any injectable filler, however, there are risks associated with improper injection. For example, if filler is injected into a blood vessel potential complications and scarring can occur. This risk increases with improper filler selection and placement as well as improper filler technique. It is important to find an experienced provider who is knowledgeable in facial anatomy and skilled in proper injection technique.
Another advantage of hyaluronic acid filler is that they can be dissolved completely with an enzyme should you not be happy with your results. This enzyme is also useful to quickly dissolve filler should a complication occur. You should be sure that the provider performing your filler treatment has this enzyme (hyaluronidase) on-hand at all times.
Where can I find dermal fillers in Pittsburgh?
Vujevich Dermatology Associates is proud to provide dermal filler treatments to our patients throughout the Pittsburgh region.
Even though dermal filler treatment is the second most common cosmetic procedure performed in the United States we believe the best results come from the most highly trained providers. That's why treatments are performed by one of our physicians or our highly trained nurse practitioner, Lisa Barba, CRNP. We are committed to patient safety and continuing education to provide you with the most advanced techniques for the best results.
Aesthetic treatments should be customized to your individual needs and wants – there should never be a "cookie cutter" approach. We believe it is important to perform a full cosmetic consultation before any aesthetic treatment. At this appointment one of our experienced providers will discuss your overall treatment goals and expectations as well as perform a full cosmetic examination of the face, neck, chest, and hands and assess your skin for tone, color, wrinkles, and sun damage. Through this comprehensive evaluation, we will then develop an individualized aesthetic plan including our full range of in-office treatments and skin care products.
We always believe in natural aesthetic results with all of our cosmetic dermatology procedures. Our goal is to never make you look "done" but just a more youthful version of yourself! You can contact us today or get in touch with our team below if we can provide more information, or if you'd like to schedule an appointment.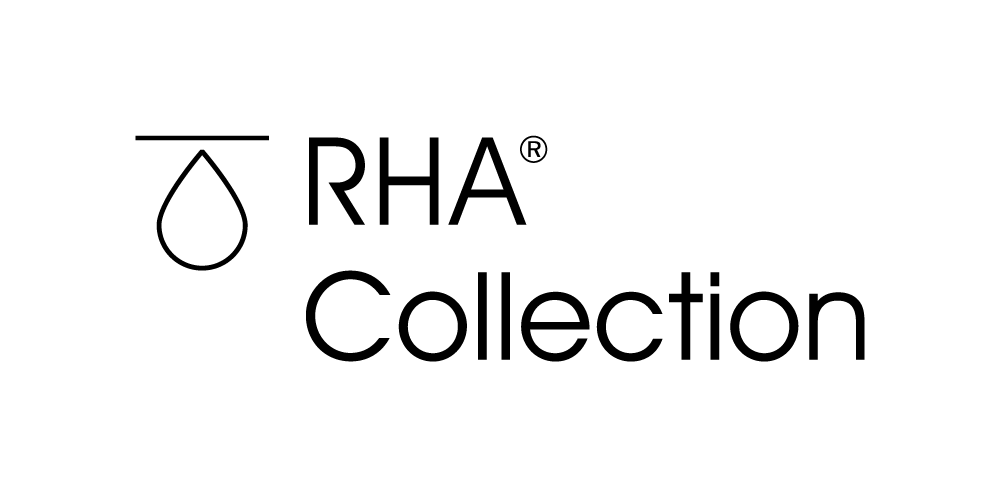 Photos courtesy of Allergan, Galderma, and the RHA® Collection.  Individual results may vary.