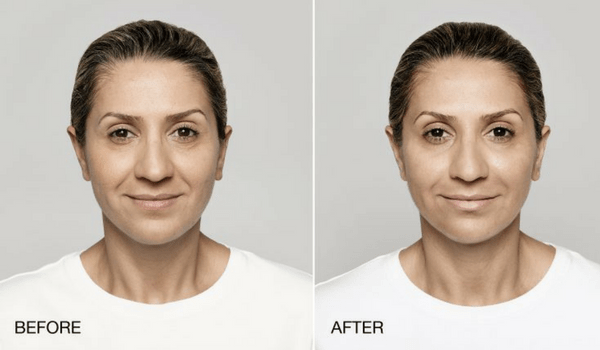 Dermal fillers are injectable treatments that are used to diminish facial lines and restore volume and fullness in areas of the face that have lost it over time, making the face look more balanced and youthful. It is a very common procedure – the second most common cosmetic procedure in the United States. So what exactly can dermal fillers do and what are they made with?
Dermal fillers can plump and enhance the lips, soften facial creases and wrinkles, enhance shallow contours, restore volume to sunken cheeks or temples, and more. They can be helpful in improving many areas of an aging face, and it's important to know what you can do to get the best results from fillers. There are some things they can't do, and for some patients, surgery such as a facelift or brow lift may be a better approach, depending on what extent and type of improvement is needed.
There are a variety of FDA approved filler products that are used for treatment. Fillers are categorized by the substance they are made from. As a patient, you should make sure that you are receiving FDA approved, brand name fillers, which are only available through a licensed physician.
Most dermal fillers are composed of hyaluronic acid. Hyaluronic acid is a clear gel-like substance that is naturally found in the body in highest concentrations in the skin. When hyaluronic acid is injected, it helps keep the skin plump and hydrated by bringing water to the surface of the skin to keep it looking fresh and youthful. Some FDA approved hyaluronic acid fillers include Juvéderm products, Restylane products, and Belotero.
A single filler treatment typically lasts six to twelve months, while some fillers can last up to two years. This depends on the type and amount of filler used, as well as the area being treated.
So why would anyone want or need dermal fillers, you ask? As we age, our faces naturally lose subcutaneous fat and bone mass. This reduction in facial volume leads to wrinkles and folds as well as a change in our facial proportions. This combination leads to the appearance of an aging face.
Choosing a professional to provide a dermal filler treatment matters. Vujevich Dermatology Associates believes that the skill and experience of your provider is very important, which is why our dermal filler treatments are only performed by one of our board certified dermatologists or our highly trained nurse practitioner, Lisa Barba, CRNP. To learn more about what to expect from our dermal filler treatments, you can visit our dermal filler page.
Vujevich Dermatology Associates offers medical, surgical, and cosmetic dermatology from some of the most highly trained physicians and clinicians in the greater Pittsburgh area. You can reach our team at 412-429-2570 or visit our contact page to see all of our locations. You can also follow us on Facebook to see what's new in the world of dermatology.