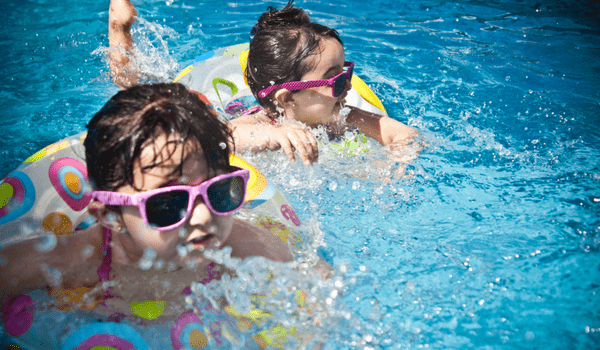 As warmer and sunnier days are upon us, it's important as a parent to know how to apply sunscreen correctly on kids. Practicing sun safety should be a priority, no matter the age. Protecting your skin from the sun is the best practice to help reduce your risk of skin cancer, so teaching your kids good sun sense from a very young age is crucial. Here are six tips on how to apply sunscreen correctly on kids and other helpful ways to protect your child in the sun this summer:
Use SPF30 or greater
Find sunscreen with an SPF30 or higher, and check the label for a broad-spectrum sunscreen which will properly protect against both UVA and UVB rays.
Use a Medicine Cup Amount
We recommend applying 1 ounce of sunscreen on your child, or enough to fill a medicine cup. This will ensure that any exposed areas of their body are generously covered.
Apply 20 Minutes Before Going Outside
Apply sunscreen on your kids 20-30 minutes before they go outside. This allows the sunblock enough time to sink into their skin.
Don't Miss Smaller Body Parts
Don't forget to apply sunscreen to the smaller body parts of your kids such as the ears, hands, feet, shoulders, and behind the neck. You should also lift up their bathing suit straps incase the straps shift while they move around. The same thing applies to lighter clothing like tank tops, shorts, etc.
Re-apply Often
Re-apply sunblock on children every 2 hours or right after a child has been swimming or sweating. Consider using a water-resistant sunscreen if you know they will be in water.
Use More Than Just Sunscreen
When protecting your children from the sun, you should also consider sun-protective clothing to get the job done. There is plenty of kids and baby swimwear and clothing to keep up with your high-energy kids!
Kids Health says babies younger than 6 months should be kept out of the sun. If you're going outside, you can dress your baby in lightweight clothing that cover the arms, legs, and head. If you're in a situation where you can't avoid the sun, you can use a small amount of sunscreen on your baby's exposed skin, like the hands and face.
As a parent, remember to be a good role model to your kids by wearing sunscreen and protecting your skin in the sun as well. Consistently wearing sunscreen with SPF 30 or greater and limiting your sun exposure will reduce your risk of skin damage and teach your kids good sun sense.
If you have further questions about sun skin care best practices, contact us today. If you missed our blog post on sun safety tips, you can read more here. Vujevich Dermatology Associates offers medical, surgical, and cosmetic dermatology from some of the most highly trained physicians and clinicians in the greater Pittsburgh area.  You can reach our team at 412-429-2570 or visit our contact page to see our locations in Mt. Lebanon, Washington, and Brentwood. You can also follow us on Facebook to see what's new in the world of dermatology.