CoolSculpting® is a one-of-a kind, non-invasive procedure that contours the body by eliminating stubborn fat. Board-certified dermatologists, Dr. Christie Regula and Dr. Justin Vujevich, have undergone in-depth training and certification to ensure the safe and effective treatment of patients in our office.
What is CoolSculpting®?
CoolSculpting® is a fat-freezing procedure that is the only FDA-approved, non-surgical fat-reduction treatment using controlled cooling to eliminate stubborn fat that resists all efforts through diet and exercise.  More than seven million CoolSculpting® treatments have been performed worldwide, proving it's a safe and effective treatment for fat reduction.
CoolSculpting® requires no surgery, no anesthesia, no invasive techniques, and little to no down time after a procedure. The CoolSculpting® fat-freezing procedure is not a weight loss procedure.  It is designed to eliminate pockets of stubborn fat in the abdomen, flanks, back, inner thighs, outer thighs, double chin, and upper arms.
How does CoolSculpting® work?
Many people have stubborn areas of fat despite diet and exercise. CoolSculpting® safely delivers precisely controlled cooling to gently and effectively target only these fat cells underneath the skin. The treated fat cells are frozen and then die by a process known as cryolipolysis. Over several weeks your body naturally processes and eliminates these dead cells, leaving a more sculpted you. The results of CoolScultping® are long-term because the treated fat cells are permanently gone.
CoolSculpting® Before and After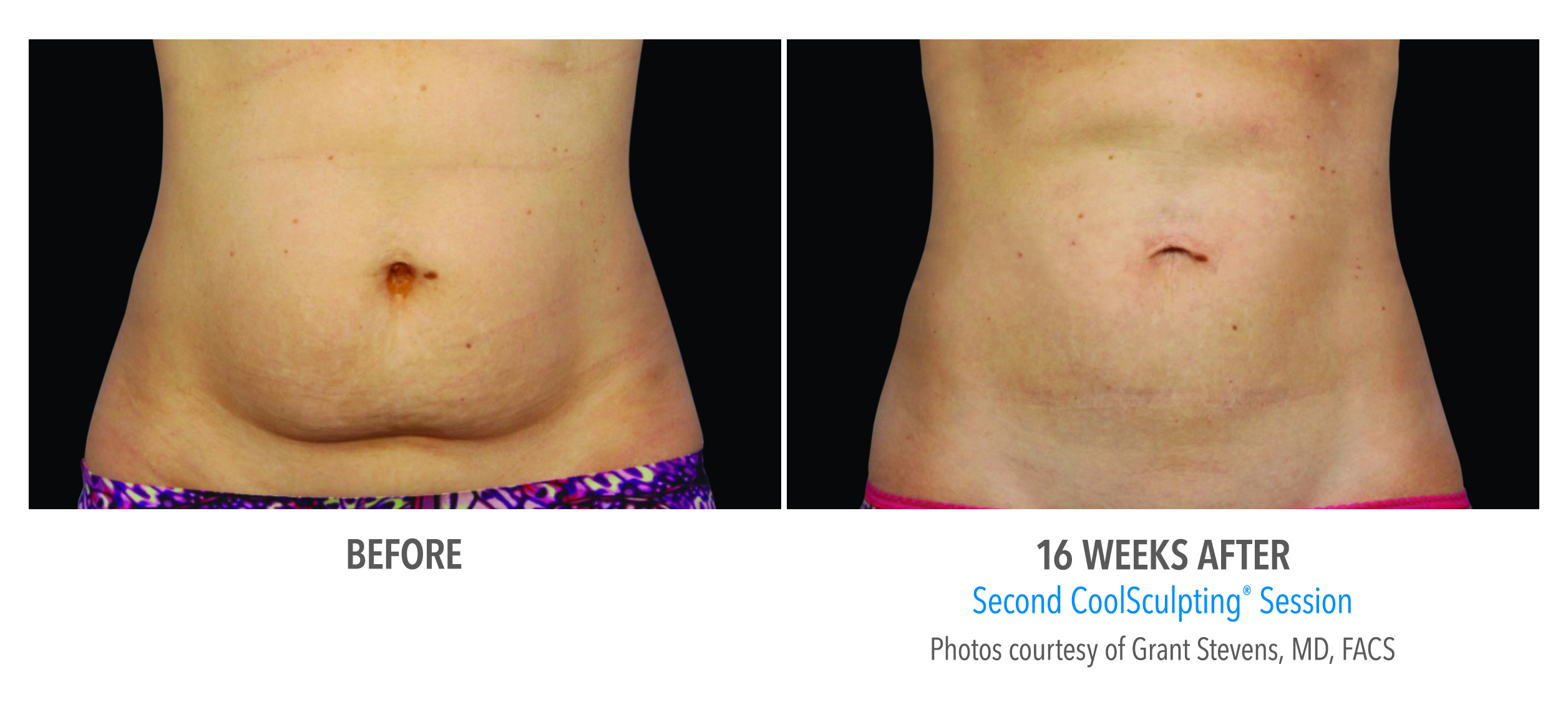 What should I expect during the treatment?
A consultation with one of our CoolSculpting® certified physicians is free.  We will take the time to discuss your goals for reshaping your body, evaluate the body using a 360-degree approach, and then focus on specific areas where you want to eliminate fat.  This will help us to determine if CoolSculpting® is the best fat reduction treatment for you.
Everyone's body is different, so your treatment plan will be customized to you and your specific goals and desired results. We will provide a clinical recommendation of which areas should be treated and how many treatments you may need. On average, each CoolSculpting® procedure can result in a 25% reduction of fat.  One or more treatments may be necessary to reach optimal results.
On the day of your treatment, no surgery or anesthetic is needed. Pre-procedure photos are taken at various angles to be able to track your improvement.  Your CoolSculpting® provider will determine the size and number of applicators needed for your treatment.  The applicator is placed on the treatment area, a vacuum is initiated to draw the fat into the applicator, and the cooling mechanism is started.  During the first few minutes of the treatment you may feel cold and/or a minor tingling sensation. This resolves after several minutes and you are able to rest comfortably and read, work, or nap during the remainder of the procedure.  The length of the procedure varies depending on the size of the area to be treated. On average, each treatment lasts 90 minutes to two hours.
What should I expect after the treatment?
CoolSculpting® is a non-surgical procedure. You will experience little to no downtime and most patients can resume their normal activities immediately following the treatment.  Typical side effects include temporary redness, swelling, bruising, firmness, tingling, stinging, tenderness, cramping, aching, itching, or skin sensitivity. However, these effects are temporary and generally resolve within days or weeks. Treatment results can be noticeable as early as three weeks after your treatment, but more significant results are seen at three months.  A second treatment may be needed six weeks after the first treatment.
CoolSculpting® Before and After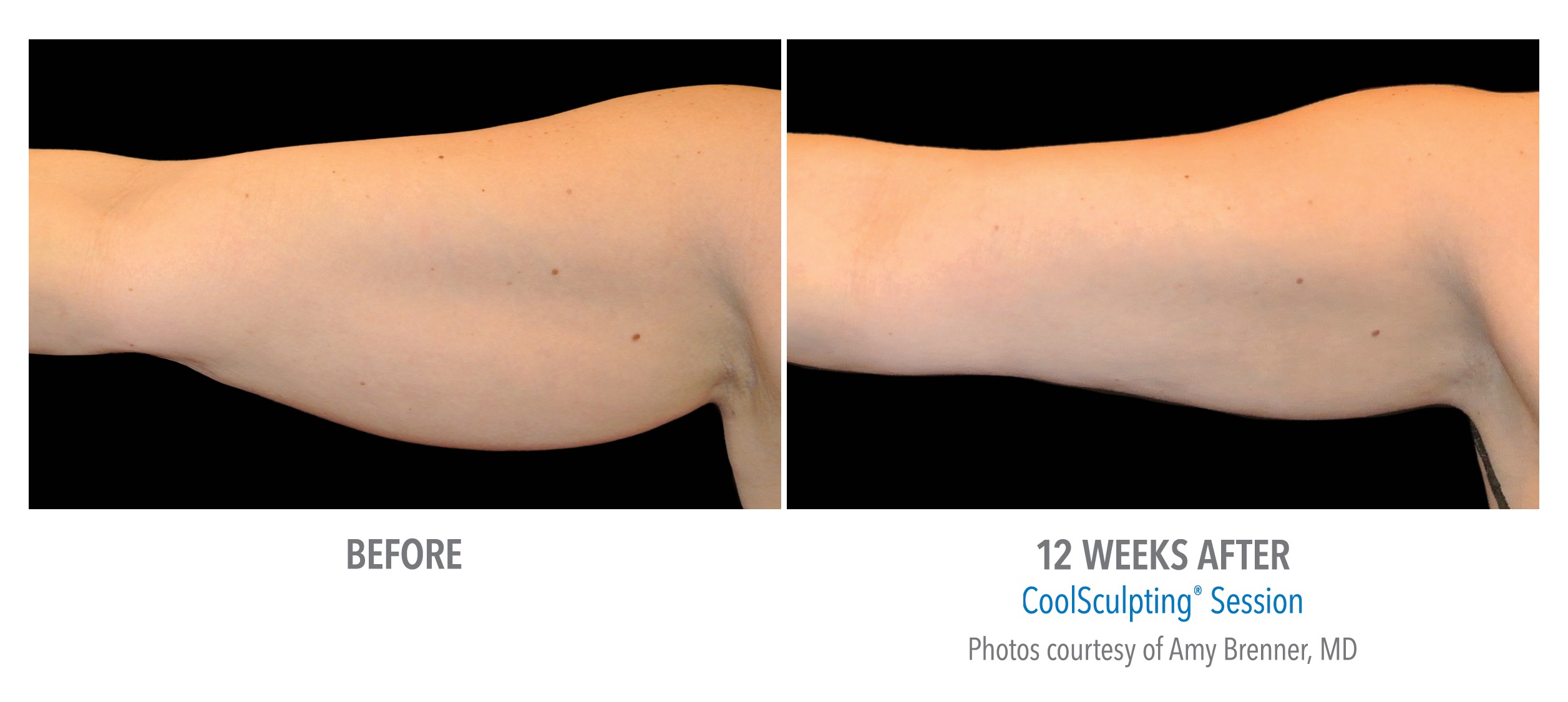 Is CoolSculpting® safe?
CoolSculpting® is a very safe procedure. This technology safely delivers precisely controlled cooling to gently and effectively target the fat cells underneath the skin while leaving the skin itself unaffected.  CoolSculpting® systems are designed with built-in safety measures. If sensors detect that the skin is getting too cold, the system will shut down automatically. Additionally, procedures are performed in our licensed and accredited Ambulatory Surgery Center, and our providers have undergone in-depth training and certification to ensure safe treatments and the highest standard of care.  Side effects are minimal but may included numbness, redness, bruising, swelling, tingling, or mild pain.
As with any medical procedure, you should talk with one of our providers first to discuss whether a CoolSculpting® procedure is right for you. You can contact us today or use the form below to request a free CoolSculpting® consultation or ask questions about any of our Cosmetic Dermatology services.