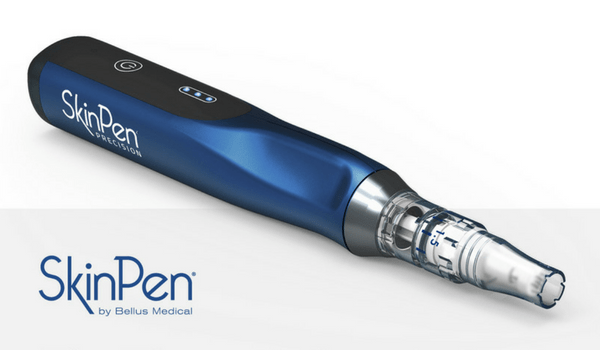 What exactly is microneedling, and is it safe? Microneedling is a minimally-invasive cosmetic procedure that is used to improve fine lines and wrinkles, acne scarring, and pore size. It can be used effectively in most body locations including for wrinkles around the mouth and eyes, as well as thin skin of the hands and neck. Overall, it helps to improve the texture of the skin. With an experienced, board-certified dermatologist, microneedling is a safe and effective treatment.
To perform a microneedling procedure, a specialized device with very small needles is used to create tiny holes in the skin. As the skin repairs these small punctures, it stimulates that body's natural ability to produce collagen. Collagen is a naturally occurring protein in our bodies that keeps the skin plump and youthful. Increasing collagen production helps to smooth fine lines and wrinkles while making it more firm, elastic, and youthful. It's important to be aware that results are not instantaneous from microneedling. It usually takes 3 to 4 treatments to obtain the maximum benefit of the procedure since the body's own repair system is being used to improve appearance.
Wondering how the procedure works? The skin is first cleansed thoroughly, and a topical numbing medication is applied to the area to be treated.  This medication sits for 20-30 minutes, then the skin is cleansed again and ready for the procedure. A cool gel is placed on the skin and the microneedling pen is passed over the area to be treated.  Since the skin is numb, most compare the procedure to feeling an electric toothbrush being passed over the skin. Depending on the size of the area, a treatment typically takes 15 minutes.
After the procedure, nothing should be applied to the skin, and sun exposure should be avoided. After 24 hours, normal skin care, sun protection, and makeup routines can be restarted. A sunburn-like redness is normal for 1-3 days. The skin may feel tight, dry, swollen, or sensitive to the touch.  It's common for the skin to peel slightly after treatment, but this may not occur until up to 1 week.
Microneedling with the Skin Pen is a safe and effective treatment. Skin Pen by Bellus Medical is the only microneedling device in the world cleared by the U.S. Food and Drug Administration, clinically proven to safely and effectively treat facial acne scars for ages 22 and up. Acne scarring is improved by stimulating collagen production, which smoothens the skin's texture.
Many people have heard about in-home microneedling devices, which won't provide the same effects. When done the right way, microneedling delivers significant, long-lasting results. Roller devices used for microneedling in the home or at non-medical spas have shorter, duller needles. These devices are not meant to deeply penetrate the skin, so while they may create a temporary brightening effect, they can't deliver the same safety and results as a microneedling treatment from a dermatologist. As with any cosmetic treatment, it is important to find an experienced team who understands the nuances of a microneedling treatment.
Interested in hearing more about microneedling? Learn more about what to expect from a treatment done by Vujevich Dermatology Associates.
Vujevich Dermatology Associates offers medical, surgical, and cosmetic dermatology from some of the most highly trained physicians and clinicians in the greater Pittsburgh area.  You can reach our team at 412-429-2570 or visit our contact page to see all of our locations. You can also follow us on Facebook to see what's new in the world of dermatology.